Follow our Facebook page so that you don't miss anything! Gymnázia Hello na facebooku.
WHAT WE BUILD ON AND HOW WE WORK
• A balanced school curriculum – it gives the same space for both humanities and science. In 3rd and 4th year of secondary school, the students have the opportunity to profile themselves in a form of optional seminars. A subject called THE WORLD IN CONTEXT is firmly incorporated in the School Education Programme and it offers the 4th year students the current topics and motivates them put the gained knowledge into context. Simultaneously, it develops their soft skills. We also make sure that we include the cross-curricular links, offer an insight into a media landscape and develop critical thinking and reading literacy in students. Our graduates are successful in entrance exams at all types of universities. OUR GRADUATES KNOW WHAT TO DO WITH THEIR LIVES

• An advanced language teaching and preparation for Cambridge Englishexams – we make sure that it is a piece of cake for the students to manage the foreign language on a communicative level. Therefore, the students in all years have one class a week with one of the native speakers, who are an integral part of our teaching staff. We prepare the students for international Cambridge English exams, which are internationally accepted and recognized and they last for life. Other languages are also supported – especially Spanish and German. Students can take an exam and get a certificate in those languages as well. FOREIGN LANGUAGES ARE A NATURAL THING FOR OUR GRADUATES.

OUR TEAM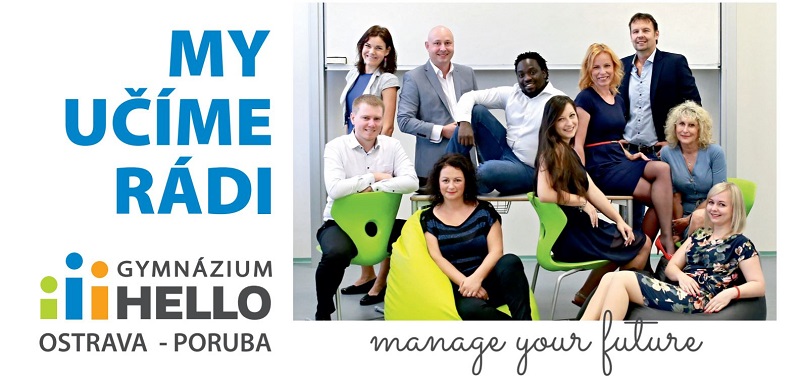 MANAGEMENT OF THE SCHOOL
Headmaster
PaedDr. Ivona Klímová, MBA
+420 737 253 317
klimova@helloskola.cz

Deputy Headmaster
Mgr. Petra Nosková
+420 778 545 789
noskova@helloskola.cz

CENTER FOR TALENTED MINDS
We develop talent
We are starting the second year of our cooperation with the Center for Talented Minds. Together with some universities, we prepare online courses in various fields in English for students aged 11-19 for the Centre. There are 4 students from lower primary school involved in the program, as well as 5 students from the secondary school. Recently, 2 most advanced English groups from 1st and 2nd year of secondary school have joined the program as well.
They will have an opportunity to develop their English and the knowledge from a chosen field.There is a lot of work ahead of them, because they will work on the tasks partly at school but mostly at home. The topics that our students have chosen are diverse: History of British Isles, Astronomy, Anatomy, Programming, Sociology or World Geography.++
We are glad that thanks to the support of the Ministry of Education, Youth and Sport and the Statutary City of Ostrava and its Talentmanagement, we can provide the support to our students, who have shown above-average results and who are interested in working on themselves out of the school as well. More information about the programs here:
https://www.ctm-academy.cz/online
A video with our successful graduates of CTM:https://www.youtube.com/watch?v=sclupuw3kSI&feature=emb_logo

PROJECTS AND GRANTS
Gamify It! Tvoříme edukační hry v angličtině
Odborné učebny gymnázia Hello
Úspory energie
Projekty realizované s finanční podporou statutárního města Ostravy